URBAN MOBILITY ACADEMY
1. WEBSITE

A professional website of Urban Mobility Academy www.dobramesta.cz was established based on the European model www.eltis.org; it includes the first version of example database, professional literature and other insights in several areas:
What role the city plays - the website explains the issue from politicians' and officials' perspectives, it means what a city should do.
Citizen - the website addresses an engaged citizen and focuses on participation.
Planning - the website teaches people that transport and mobility should be approached within a certain context. We must go deeper to see the causes of transport and mobility problems, we should be able to view from different and innovative perspectives, and to see a not-at-first-sight-obvious context.
Good practice examples on urban mobility topics related to infrastructure and soft tools (campaigns, mobility plans) aim to show how to combine safety needs with parking, walking, cycling and public transport, public space and other issues. And again, with an emphasis placed on comprehensive solutions and broader context because various topics are interconnected and should not be solved separately.
Figures, facts and data. The website shows how to understand and interpret data and facts, and what analyses and statistics are good for.
Events - invitations for conferences, seminars, workshops on urban mobility.
News - what is interesting that every new article is automatically put into one of the mentioned topics.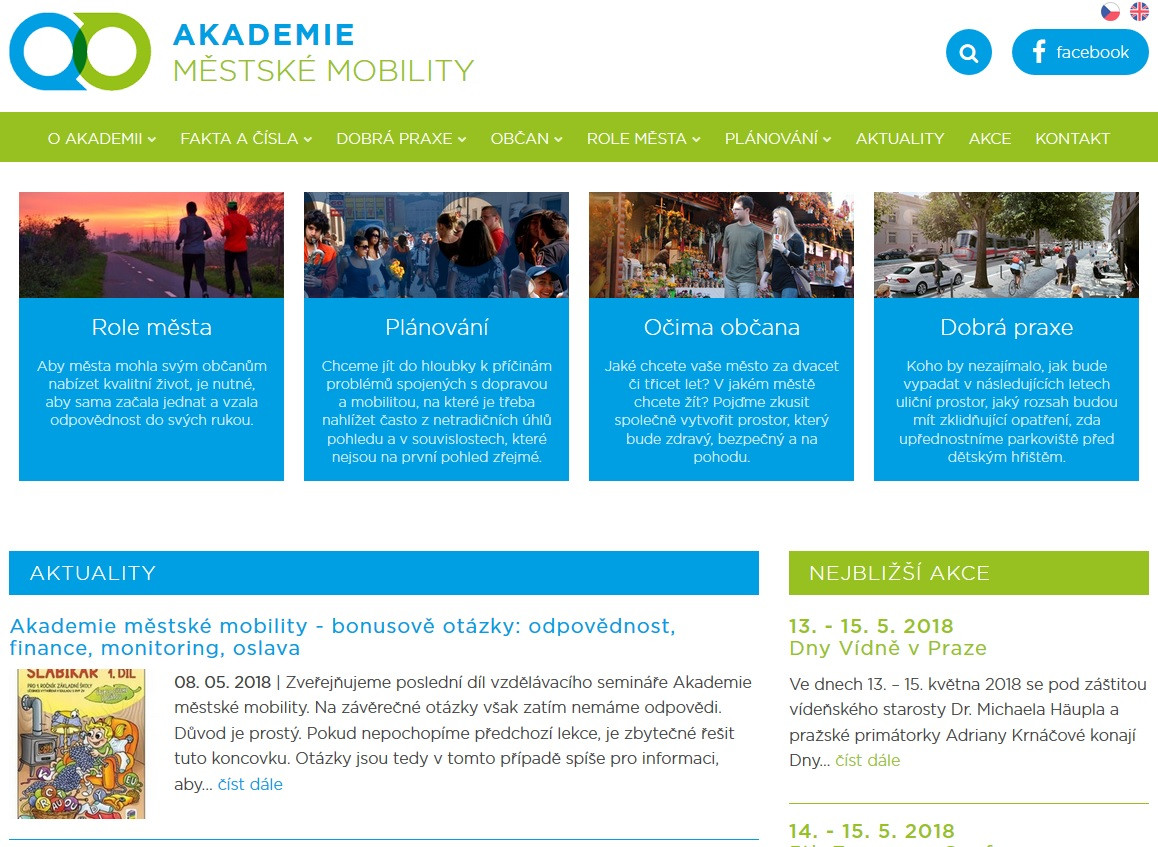 It should be highlighted that SUMP is primarily a strategic document, with an emphasis put on outputs based on an action plan, and not transport analysis and modeling. And now we come across a specific problem in the CR where the providers have realized that SUMP could be a good business and thus the SUMP outputs consist of many figures and data, difficult to understand, to work with and to transform into the original idea of SUMP.


2. NEW COMMON EDUCATIONAL PROGRAMME based on brainstorming principles. 

The the Association of Cities for Cyclists  together with the Czech Transport Ministry and other partners come up with an innovative educational programme. Its innovation can be expressed through a motto "You are not our clients, but partners". It is intended for those already engaged in urban and regional mobility issues, thus the aim is not only to educate but to define in close cooperation the above-mentioned methodology for smaller towns. We've been already defining the documents necessary for tendering the "new generation" SUMP process.



3. CONFERENCE 
URBAN MOBILITY ACADEMY conference (4 - 5th October 2018, Třebíč) for those "not in the know". The conference should be the highlight of the whole educational programme. We tend to invite especially those who are less or very little informed about the urban mobility issue. On the contrary, lecturers will be those who went through our course, local policy makers and planners, not transport experts. This step will enhance the idea of changing local governance structures. Information is important but useless without system changes. 

The last great event which was held in Ostrava on 6 - 7th December 2017. The City Changers Conference summed up long-term activities that were running in recent years, and outlined possible solutions in urban mobility. See a short summary (in English). Links to outputs and presentations (in Czech) can be found on http://www.dobramesta.cz/akce/1.

Dokumenty
Za "x" dosaďte ID číslo požadované složky dokumentů. Například id:1.
ID číslo je zobrazeno u jednotlivých složek dokumentů.