The National Cycle Route Network
The long-distance cycle route network was established in 1997 in the Czech Republic. At that time the cycle routes led on local and regional roads, on field and forest routes, and on just a few cycleways. A lot has changed since then. In many cases, the cycle routes were transferred from busy roads to new cycleways. Their length is about 4.000 km currently. Most of the cycleways were built for transport, not for recreational purpose. Thanks to the relatively dense population in the Czech Republic there were some areas where it was possible to build long and continuous sections of cycleways along rivers, sometimes even 50km long, by only connecting short existing cycleways. However, the newly built cycleways are always intended primarily for the use of locals (for both transport, and recreational use).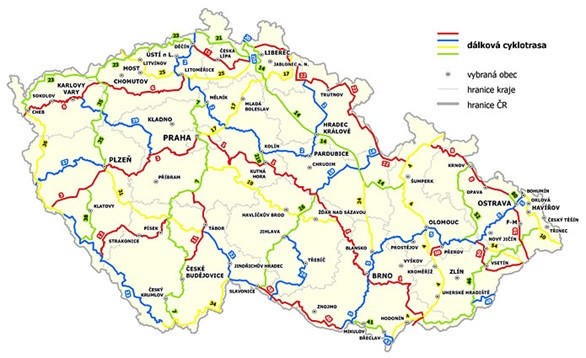 The national long-distance cycling network includes several regional cycling concepts where the regions assign their priorities in financing selected projects. Transnational networks like EuroVelo, Greenways and others are just a matter of marking in the Czech Republic, as well as of tourism products (bike tourism resp.). National and regional authorities have been negotiating the issue of problematic sections on long-distance cycle routes; the subsequent construction which is based on regional cycling strategies depends on how active the regional authority is. Here are some examples from different regions.